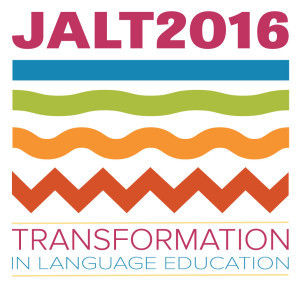 Pre-registration is open until October 25th
Transformation in Language Education
As language teachers and learners the idea that language education is transformative will be neither surprising nor unusual. All of us have had teachers or classes that have changed our lives. Some of us have also had language learning experiences that have been ______________. That blank space is there for you to fill-in because transformation implies change, and change in language education can be viewed in so many ways: inspiring, stimulating, rejuvenating, exhilarating, renovating, resuscitating, and this list can go on and on.
If you speak to one of the thousands who have attended a JALT conference over the last several years, you cannot help but hear stories of transformation. It is the nature of JALT conferences to be change agents. And, JALT2016 will prove to be extra special: it will not just be transformative—it will provide a platform for exploring transformation from many vantage points.
The call for proposals is open until February 15. Every year hundreds and hundreds of proposals are received. It will be great if at JALT2016 some of the accepted proposals can address the following questions:
How do teachers change?


How have our learners changed?


How has our understanding of language education changed?


How have materials, textbooks, and tools changed, and how have those changes transformed the experience of language learning?


How has the educational landscape in Japan transformed in recent years?


What changes are coming next?
One book that has transformed many teachers' teaching lives is Earl Stevick's Teaching Languages: A Way and Ways. In it Stevick writes:
Some riddles have no final answers.
A few answerless riddles are still worth asking.
They are worth asking not for their answers, since they have none, but for what we do in struggling with them.
This struggling with riddles is one path towards transformation.Let's keep at this as we count down to JALT2016: Transformation in Language Education.
The JALT2016 Conference Team
Steve Cornwell, Director of Program